Centre Events & Activities
Despite the continued restrictions and obstacles, the staff of CeReNeM have continued our artistic and scholarly activities as best as possible, including taking advantage of some of the new collaborative opportunities afforded by Zoom, live streaming of performances, and online conferences.
Though travel is of course now largely impossible, the international span of our activities remains intact, not least in the makeup of our postgraduate student community. We have had new students join us from Columbia, Australia, Canada, Russia, Italy, Iran, etc., but unlike previous years, rather than coming together under one roof in Huddersfield, this year we are connected each week online across far-flung time zones, and there has been a certain elegance in watching students interact in our seminars from their homes in Tallinn, Melbourne, and Moscow.
That online international network has included our Colloquium guests as well. In October, under the guise of our Speculations in Sound international research network, we welcomed Prof Vijay Iyer (Harvard University) to discuss his work as a performer, composer, and improviser. And in November we organised a panel discussion in our seminar series on Race & New Music with Anahita Abbasi and Niloufar Nourbakhsh (representing the Iranian Female Composers' Association), CeReNeM alumna Chikako Morishita (representing the Japanese Women Composers Meeting), Ross Karre (Artistic Director of New York's International Contemporary Ensemble), and CeReNeM alumnus Seth Parker Woods (currently Artist in Residence with the Kaufman Center and Lecturer/Artist in Residence at the University of Chicago, a partner institution in the Speculations in Sound network).
CeReNeM also curated an online event for the hcmf// Artist-to-Artist conversation series, in partnership with SPARC at City University, London, between composers Clara Iannotta and Cassandra Miller. We're pleased to announce that this series will be extended, with future online conversations to be published in 2021.
'Virtual' Ensemble in Residence
We are also pleased to be able to continue our annual visiting artist programme, despite the constraints of the pandemic. The International Contemporary Ensemble (USA) is our 'virtual' ensemble-in-residence for the 2020–21 academic year. As part of the ensemble's Re.Co Lab, or "Remote Composers Laboratory," which brings distant composers together by way of different combinations of specialized microphones, headphones, conference systems, digital audio workstations, audio transport systems, and cloud services, a selection of seven postgraduates and staff researchers of CeReNeM will develop new compositions in collaboration with the ensemble across the year, with high-quality videos of the resulting works published jointly through the group's Digitice platform and CeReNeM's YouTube channel in the early summer of 2021.
The partnership amplifies two particular areas of activity common to the Ensemble and CeReNeM. First, it brings together both institutions' work on networked artistic collaboration through music technology, and will include opportunities for knowledge exchange of best practices for realtime online audio collaboration, video production, documentation, and dissemination strategies. Second, as with CeReNeM's recent series on 'new music & social change' and its current series on new music & race, the International Contemporary Ensemble has demonstrated a strong commitment to inclusion, equality, and diversity in its programming and practices. This year's partnership will include opportunities for discussion and action around equitable practices in the arts, including exchange and collaborative events with members of the Iranian Female Composers' Association.
Huddersfield Contemporary Records
HCR's 24th release, Smoke, Airs, featuring performances by New York's Wet Ink Ensemble, was released in September. The recording was produced in partnership with hcmf// 2019, with support from Horizon2020.
This is the third HCR release linked to CeReNeM's Speculations in Sound international research network, and includes contributions from three Wet Ink members associated with network partner institutions—Alex Mincek (Northwestern University), Sam Pluta (University of Chicago, and also Visiting Research Fellow with CeReNeM's Creative Coding Lab), and Alice Teyssier (NYU)—in performances of works by CeReNeM staff Bryn Harrison and Pierre Alexandre Tremblay, Marie Skłodowska- Curie Postdoctoral Fellow Kristina Wolfe, and Charmaine Lee, who was also featured previously on Phantom Images (HCR17).
As part of the project, Dr Teyssier (NYU) contributed an article discussing the four compositions and the collaboration and development process between the four composers and the performers of Wet Ink: "ECHOES OF ECHOES: Memory, Perception and Contemplations."
Elsewhere, recordings from Juliet Fraser's spilled out from tangles, released on HCR in April 2020, have been featured in several high-profile festivals in recent months, as online streaming events have replaced in-person concerts. In August, beautiful new video productions by Inga Lankenau of Nomi Epstein's collections for Juliet and Sivan Eldar's Heave were presented at the TimeSpans festival in New York, with a similar event at the Festival für Immaterielle Kunst, Elbphilharmonie, Hamburg in September, and at November Music in s'Hertogenbosch, The Netherlands.
FluCoMa
Dr Gerard Roma, Dr Owen Green, and Prof Pierre Alexandre Tremblay of the FluCoMa team presented their paper "Audio Morphing Using Matrix Decomposition and Optimal Transport" at the 23rd International Conference on Digital Audio Effects in September.
Owen also had a performance at XCoax with his trio Raw Green Rust in July, a solo performance at the NIME conference (Royal Birmingham Conservatoire, July 2020), and was featured with Raw Green Rust on BBC Radio 3's New Music Show in August.
FluCoMa PhD student Jacob Hart delivered papers at the Royal Musical Association 56th Annual Conference in September, and at Les Journées d'Informatique Musicale 2020 in Strasbourg in October.
In the coming months, FluCoMa will be present at the Dialogues Festival in Edinburgh, with world premiere performances of new works using the FluCoMa toolset by Owen, Gerard, PA and Dr Alex Harker.
Staff Publications and Research Activity
CeReNeM alumnus Seth Parker Woods is creating an immersive mediated performance of Prof Monty Adkins' work for cello and electronics, Winter Tendrils, that incorporates the architecture of the campus at the University of Chicago and filmed elements by Zoe McLean. The resulting music video will air on 26 February via the Gray Center for Arts & Inquiry YouTube channel and then will be available on Vimeo thereafter. The special collections library at University of Chicago will also hold a copy of the film. 
November 2020 saw two significant publications arising from Prof Robert Adlington's ongoing project on music and democracy. Finding Democracy in Music (Routledge) is a multi-authored volume exploring democracy as a source of inspirations for diverse kinds of musical production over the past 100 years; the contributors address music ranging from Percy Grainger to Christian Wolff, and from jazz to early internet network music. The volume was edited by Adlington and Esteban Buch (EHESS, Paris). A related sequence of essays appears in the latest volume of the Darmstädter Beiträge zur Neuen Musik, based on papers delivered by Prof Adlington, Noriko Manabe (Princeton University), Cathy Milliken, and Georgina Born (Oxford University) at the 2018 Darmstadt Ferienkurse.
In October, Robert delivered a guest lecture entitled 'Practising egalitarianism: small ensembles, free improvisation and democracy' for the Royal Northern College of Music. He was also convenor, together with Dr Igor Contreras-Zubillaga, of the online symposium 'Music and Political Democratisation in the Late Twentieth Century', which attracted speakers from Spain, South Africa, Senegal and the UK, and acted as chair and respondent for the panel session 'Music and the Third Wave of Democratisation in Southern Europe and the Global South' at the 56th Royal Musical Association Annual Conference in September. Adlington's monograph Musical Models of Democracy is nearing completion, and he is awaiting the outcome of a collaborative funding bid that would explore means of connecting the unique music collections of Heritage Quay (including the archives of the British Music Information Centre and the Society for the Promotion of New Music) with other nationally significant music collections for scholarly and public benefit.
Dr Mary Bellamy is on sabbatical from January to July 2021, during which time she will be working on a new solo percussion piece with Ross Karre from the International Contemporary Ensemble.
Prof Aaron Cassidy has had several online events and performances since the spring. His 1999 work metallic dust was presented by Carl Rosman twice in the Ensemble Musikfabrik 'Concertini' series, broadcast live online on 23 July, and the same work was recorded for the group's extensive 'Lockdown Tapes' series in August. His short oboe solo memento/memorial was recorded by Peter Veale in November, and will be added to the video series later this year.
In September, Aaron's new fixed media electronics piece Study for Self-Portrait, 1964 was premiered at the Mixtur Festival in Barcelona, for which he also contributed a Zoom lecture for the participants in the festival's Workshop on Composition and Sound Experimentation, entitled 'A way of making ghosts—on self-portraits, musical and otherwise', a talk he reprised for the Bath Spa University Creative Sound Forum in November. 
Aaron is currently completing a new piece for the unusual combination of soprano, recorders, Uillean pipes, triple harp, and cello, to be premiered by ELISION in Melbourne later in 2021, a solo for E-flat clarinet commissioned by Carl Rosman, and has started work on a new piano concerto for pianist Alex Waite and ELISION, commissioned by the Ernst von Siemens Musikstiftung for performance in 2022.
Inside Computer Music, the primary publication emerging from the AHRC-funded TaCEM project (Technology and Creativity in Electroacoustic Music) of Prof Michael Clarke, Dr Frédéric Dufeu and Prof Peter Manning (Durham University), has been published by Oxford University Press. The book is dedicated to the history and analysis of nine key works from the electroacoustic repertoire by composers John Chowning, Barry Truax, Philippe Manoury, Hildegard Westerkamp, Francis Dhomont, Trevor Wishart, Jonathan Harvey, Cort Lippe, and Natasha Barrett. It is accompanied by a substantial package of free software including video interviews, emulations of the techniques employed in each work, and interactive aural analyses. An important aspect of the publication is the use of demonstration videos, enabling readers to see the software in action before downloading it.
Dr Igor Contreras-Zubillaga's new book, « Tant que les révolutions ressemblent à cela ». L'avant-garde musicale  sous Franco ["As Long as Revolutions Look Like This": Avant-Garde Music in Francoist Spain], was published by Éditions Horizons d'Attente, Paris, in January. In December, Igor participated in the 'Music and Resistance' Symposium hosted by Centro Studi Opera Omnia Luigi Boccherini (Lucca, Italy) with a paper titled 'A Way of Resistance? The Spanish Musical Avant-garde at the 1976 Venice Biennale'.
Over the summer Prof Bryn Harrison completed a commission from the Ernst von Siemens Foundation, a solo violin piece entitled A Coiled Form, which was written for Sarah Saviet for the Riot Ensemble's Zeitgeist commission series. This will be recorded at Deutschlandfunk Köln early this year.
Bryn's new portrait album Time Becoming (Neu Records, Barcelona) was released in late January. It features two of Bryn's pieces, Repetitions in Extended Time (2008) and How Things Come Together (2019), performed and recorded by ensemble plus minus (Mark Knoop, conductor) and Ensemble Contrechamps (Vimbayi Kaziboni, conductor). The launch of the disc will take place in Geneva later this year. The album is available in CD and digital download formats in both HD Stereo and Surround 5.1.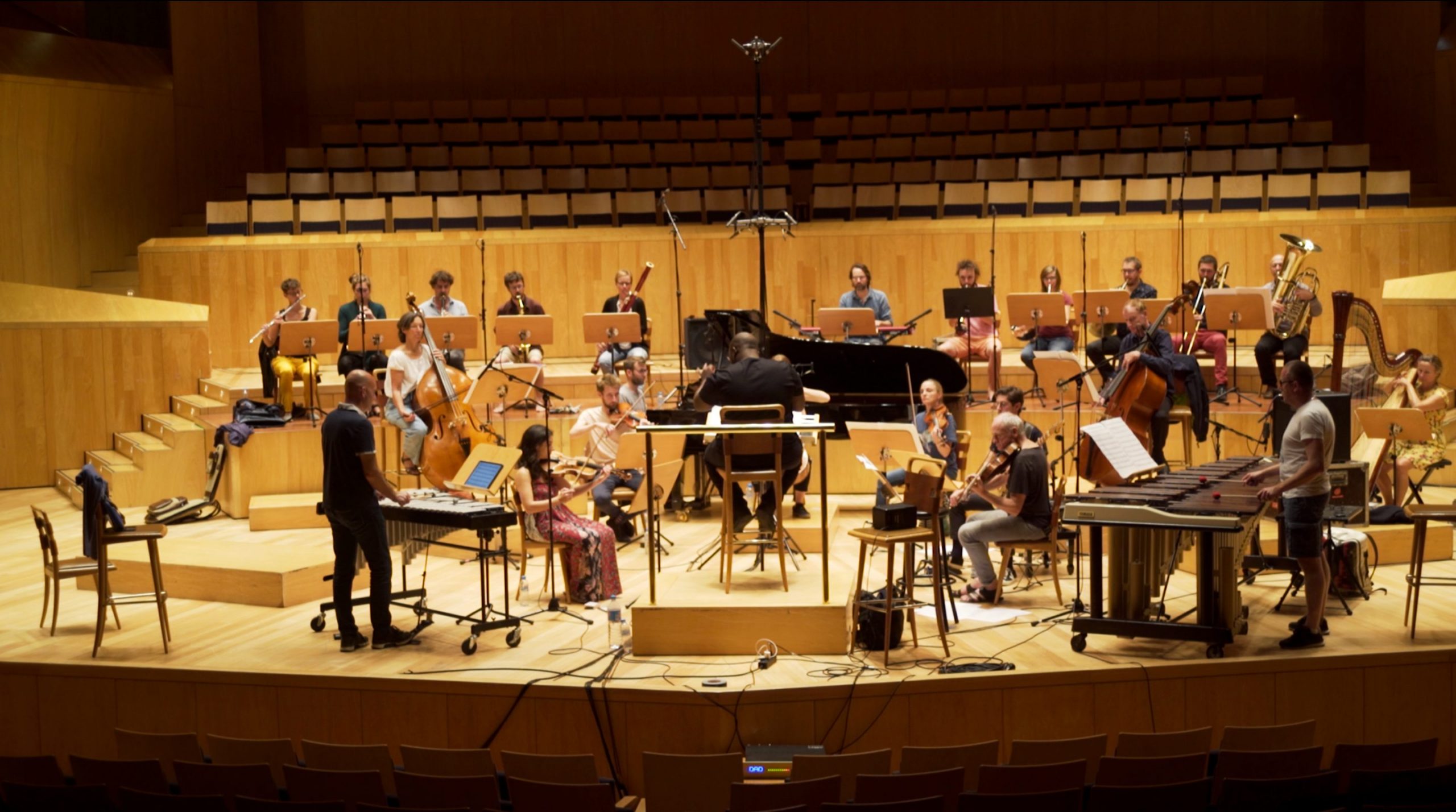 Dr Steven Jan participated at The 2020 Joint Conference on AI Music Creativity (October 2020, Royal Institute of Technology, Stockholm) as a member of the steering committee, paper session chair and speaker at a panel titled 'The Future of MuMe + CSMC'. His main focus in 2020 was finishing a book project for Cambridge University Press, the manuscript for which was submitted in November.
Dr Ben Spatz gave a video talk at "The Art of Video (in) Research" online symposium hostedby the Zurich University of Arts in January. The talk was titled "Queering Annotation" and examined the practice of annotating artistic research video, understood as a method for articulating the queer entanglement of technique, identity, and place.