At CeReNeM, as elsewhere, the first half of 2021 was characterised by a certain 'new normal' of the pandemic era. Whereas in 2020 we had to quickly adapt to unexpected obstacles, in 2021 the focus has clearly shifted to finding ways of maximising the artistic and scholarly potential of some of the new technologies, new platforms, and new performance and dissemination environments that have emerged over the last 18 months. Despite some continued challenges for travel, we have found ways to maintain the international scope and reach of our research, and several exciting new opportunities have emerged along the way.
Centre Events & Activities
CeReNeM's weekly Colloquium continued online, which allowed us to host several special international guests and networking events. Guest speakers included Prof Tyshawn Sorey (University of Pennsylvania, USA), Prof Cathy van Eck (Hochschule der Künste Bern, Switzerland), Dr Laura Bowler (RNCM), and the eminent composer Tom Johnson, as well as an exciting pair of exchange events between CeReNeM's postgraduate community and the Iranian Female Composers Association, with contributors scattered between Canada, the USA, Iran, Europe, and Australia. Our CeReNeM seminar series also included a session on new technologies for remote musical collaboration, featuring Shelly Knotts (Network Music Festival), musician Cath Roberts, along with Tom Ward, Sam Andreae, and CeReNeM MA student David Birchall, who presented their work on the Autonomous Noise Unit, an R&D project supported by Innovate UK that developed a low-latency interface to enable users an accessible way to play music together online with high-quality audio, even when separated geographically by long distances.
Likewise, the continued limitation on concerts led to an exciting yearlong project in partnership with the New York-based International Contemporary Ensemble, as part of their Re.Co.Lab (Remote Composers Laboratory) project, which examines new modes of technology-supported collaboration between composers and performers across continents. The partnership led to eight new compositions by CeReNeM staff and PhD students, recorded to video for dissemination through CeReNeM's YouTube Channel and ICE Ensemble's Digitice platform.
CeReNeM also continued its partnership with hcmf// and SPARC, City University London, as a curator of the hcmf// Artist-to-Artist series. The latest CeReNeM installment featured a discussion between the Irish composer Ann Cleare (Asst Prof, Trinity College Dublin, and a previous CeReNeM guest) and German composer Carola Bauckholt (Prof of Composition, Anton Bruckner Privatuniversität, Linz, Austria).
This summer, CeReNeM staff have served as mentors for the Sound Pioneers project of the Yorkshire Sound Women Network. Aaron Cassidy, Alex Harker, and Monty Adkins have assisted with residencies in Huddersfield's 25.4-channel SPIRAL studio by project composers Nwando Ebizie, Lottie Sadd, and Rachael Gibson. The new works created through these residencies will be presented at hcmf// in November and Electric Spring in February.
The HISS is co-producing a performance at the Marsden Jazz Festival. The system will be used to create a 360-degree, immersive audio-video environment to present the Chronotope project, site-specific performances in a number of iconic locations on Marsden Moor.
Finally, we are pleased that Prof Jøran Rudi joins us as Leverhulme Visiting Professor for the 2021–22 academic year. From 1993–2010 Prof Rudi was responsible for establishing and developing NoTAM, the pioneer in digital music in Norway and a key CeReNeM partner institution. As part of this residency, funded by the Leverhulme Trust, Prof Rudi will deliver six public lectures as part of the CeReNeM Colloquium series.
Alumni News
The first half of 2021 saw some exciting news for several current and former CeReNeM postgraduate students. Alumna Cassandra Miller was named as one of the recipients of the prestigious Paul Hamlyn Awards; the BBC Scottish Symphony Orchestra presented concerts during the 2021 Tectonics festival featuring alumni Scott McLaughlin (Leeds University) and Heather Roche (Goldsmiths, University of London); alumnus Seth Parker Woods (University of Chicago) presented several concerts at Merkin Hall (NYC) and the TIME:SPANS Festival featuring CeReNeM staff; alumna Dr Pia Palme's 'On the Fragility of Sounds' project at Kunstuniversität Graz, Austria, funded by the FWF Austrian Science Fund, featured events that included alumna Dr Chikako Morishita; and current PhD candidate Hakan Ulus was appointed Professor of Composition and Music Theory at the Gustav Mahler Privatuniversität für Musik in Klagenfurt, Austria.
HCR
On 15 October 2021, Huddersfield Contemporary Records (HCR) will launch its 25th release, Singing in Tongues, a three-CD boxset of the operas and major vocal works of former CeReNeM Director Liza Lim (now Professor of Australian Music at University of Sydney) written for the ELISION ensemble. The release includes The Navigator (2008), Mother Tongue (2005), Chang-O Flies to the Moon, (scene 6 from Yuè Lìng Jié (Moon Spirit Feasting, 2000), and a re-release of The Oresteia (1993), which has been out of print for 20 years. The liner notes were authored by Tyler Bouque, a new CeReNeM Masters student in musicology and vocal performance. The release was funded through a grant from the Australia Council for the Arts.
We are also putting the finishing touches on a new disc of solo violin music performed by PhD candidate Dejana Sekulić, as part of her Temporality of the Impossible research project. The disc includes works by Clara Iannotta, Rebecca Saunders, Liza Lim, Evan Johnson, Cathy Milliken, Aaron Cassidy, and a work by Dario Buccino newly commissioned for the project.
FluCoMa
First, a farewell and two welcomes. For our final year of the Fluid Corpus Manipulation project, we will be joined by two new research fellows in creative coding, Dr James Bradbury and Dr Ted Moore. Their focus will be to strengthen the community around the use of Fluid Corpus Manipulations within their respective creative coding environments, Max and SuperCollider. Dr Gerard Roma has been offered a full-time position at Leeds Trinity University, and as such will contribute to a lesser extent to the project. We wish them all the best in their new adventures!
From 7–10 July, FluCoMa delivered its final plenary session, along with a concert with premieres at Dialogues Festival in Edinburgh, including the premiere of a new work by Dr Alex Harker. The team has also published a series of videos introducing and demonstrating the FluCoMa Toolbox on the project YouTube channel, which have been released over the last several months. After the first successful experimental workshop in Edinburgh, the team is going on the road to further test various approaches to workshopping machine learning and machine listening with our toolset, alongside the wider questions these endeavours raise for creative coders. Parts of the team will travel in the coming weeks to Basel, Chicago, Oslo, Phoenix, and Utrecht for various workshops and events.
Also in July, FluCoMa presented a paper titled 'Digging it: Programmatic Data Mining as Musicking' at the International Computer Music Conference 2021, hosted online by Pontificia Universidad Católica de Chile, Santiago. The paper, which can be read here, was awarded the Paper of the Year Prize from the ICMC. Many congratulations to the FluCoMa team for this honour!
And on 7 August 2021, compositions by Hans Tuschku (Harvard University) and Sam Pluta (University of Chicago) developed as part of the FluCoMa project were featured on the BBC Radio 3 New Music Show.
Staff Publications and Research Activity
Prof Monty Adkins' work Winter Tendrils, for cello and electronics with a film by Zoe McLean, was performed by CeReNeM alumnus Seth Parker Woods at the University of Chicago as part of the SOUNDsites online series in February and May. The work was also performed in a streamed event from Merkin Hall in New York in May 2021 as part of the Kaufman Center's Ecstatic Music series, and again at the TIME:SPANS festival in New York on 26 August, alongside Prof Pierre Alexandre Tremblay's asinglewordisnotenough 3 [invariant]. Monty's With Love. From an Invader, an installation developed with Huddersfield colleague Yan Wang Preston, will be released on Cronica (Portugal) on 26 October 2021. Movements of the work were performed at BEASTFEaST 2021, University of Birmingham, in April and at the NoiseFloor Festival, University of Staffordshire, in May.
Monty also organised the conference "Gerhard: Reappraising a Musical Visionary," 2–3 July 2021, funded by the British Academy.
On 20 February Igor Contreras Zubillaga was invited to France Musique to talk about his new book on the Spanish musical avant-garde in Franco's Spain. The podcast of the interview is available here.
Igor also recently co-edited with Eva Moreda Rodríguez (University of Glasgow) a special issue of Journal of War and Culture Studies on international musical responses in support of the Republic during the Spanish Civil War. There will be an online launch through Zoom of the special issue, to take place on 6th October at 5.15pm (UK time) as part of the RMA Research Colloquia in Music at the University of Glasgow. The roundtable will include the editors and authors of the issue and Annegret Fauser (University of North Carolina) and Mari Paz Balibrea (Birkbeck, University of London) as respondents.
Igor and Prof Robert Adlington are organising the final event for the Music and Democracy Study Day series. The topic will be 'Rethinking Participatory Processes Through Music', 14-15 January 2022 (online). The keynote speakers will be Hélène Landemore (Yale University), Anna Bull (University of York), and Raymond MacDonald (University of Edinburgh).
In August, Prof Pierre Alexandre Tremblay's nureinwortgenügtnicht4 was performed by CeReNeM alumna Heather Roche and Eva Zölner as part of their concert at the Darmstadt Summer Courses. PA's asinglewordisnotenough3 was presented several times by CeReNeM alumnus Seth Parker Woods, including at Merkin Hall (with choreography from dancer Roderick George) and at TIME:SPANS in NYC. The Merkin Hall concert was highlighted in the New York Times on its list of "10 Classical Concerts to Stream in May."
In mid-July, PA's Les trois petits c… ('The Three Little P…') was presented in Brussels and online by its commissioner, Musiques & Recherches, and on 21 August the Futura festival presented his Attempt at Stillness in Crest, France.
In October, the Empreintes DIGITALes label will release its fifth album of PA's music. Entitled Quatre poèmes, it is a stereo (physical & online) and 5.1 (online only) release of several fixed media works from the last seven years. The release has been supported by the Canada Council for the Arts.
Mary Bellamy's new work Flight for solo violin, written for the Royal Academy of Music 200 Pieces Project, was premiered by Academy violinist Charlotte Spruit in a live-streamed concert on 27 April 2021. The work was inspired by different forms of bird flight, particularly soaring, gliding and diving, and explores how the varying speed and motion of these might be captured in sound. The score is available from Composers Edition.
Mary has also recently completed a new solo percussion piece, titled dual impulse, for Ross Karre, which will be recorded as part of CeReNeM's partnership with the International Contemporary Ensemble. The work is created for online distribution and uses sound combinations that lend themselves to audio-video recording. It features a small collection of mainly metal instruments and explores the different qualities of resonance and sustain that can be created through the use of close miking. Ross will premiere the piece on 27 September at Target Margin Theater, Brooklyn.
Steven Jan has been closely involved in the Steering Committee which implemented a merger between the CSMC conference series (the first iteration of which was held at the University of Huddersfield in 2016) and the MuMe series. The new community website is at https://aimusiccreativity.org. The second iteration of the merged AIMC Conference was held online in July from Graz, for which Dr Jan chaired a session.
Prof Aaron Cassidy's work has been featured as part of ELISION's recent Performance Series, a collection of videos documenting some of the ensemble's long-term collaborative relationships. These include recordings by Daryl Buckley of The wreck of former boundaries for electric lap steel guitar and electronics, and a pairing of his two trombone solos — Because they mark the zone where the force is in the process of striking (or, First Study for Figures at the Base of a Crucifixion) and songs only as sad as their listener — performed by Ben Marks.
Aaron has also had several recent projects in Germany as a conductor. In June he was a guest conductor for Schola Heidelberg in a video production for the Rhein-Neckar Biennale für Neue Musik of his former colleague Erik Oña's final piece, Per Aures. In July, he had two projects with Ensemble Musikfabrik in Cologne, the first a concert of six new works by students at the Institut für Neue Musik at the Hochschule für Musik und Tanz, Köln, which included a concert and video recordings of all six works. The second project was two recordings of a new work by the Turkish composer Turgut Erçetin, Thousand dead bodies under my bed, all cloaked with the breath of the living, which they recorded for broadcast at the WDR Funkhaus Wallrafplatz for the Musikfabrik im WDR concert series, and also in an all-day studio session for a future release on the Wergo record label.
More recently, Aaron was called as a last-minute substitute to fill in for Enno Poppe for a concert at the Berlin Philharmonie, again with Ensemble Musikfabrik, in a portrait concert of works by Ann Cleare for Musikfest Berlin, part of the Berliner Festspiele.
Prof Cassidy recently completed 27. Juni 2009, a work for solo E-flat clarinet commissioned by Carl Rosman with funds from the Nordrhein-Westfalen Covid Cultural Recovery Fund. He is currently working on a Piano Concerto, commissioned by the Ernst von Siemens Music Foundation, scheduled for premiere by ELISION in Melbourne and New Zealand in September 2022 with the Stuttgart-based pianist Alex Waite, with Aaron as conductor.
And finally, there have been two recently published PhD dissertations about Aaron's work: Ralph Lewis (University of Illinois), "Resilient Structures and Indeterminate Localities in Aaron Cassidy's Second String Quartet," and Samuel Fibich Yulsman (Columbia University), "Free Jazz Simulations and Political Despair in Aaron Cassidy's The wreck of former boundaries."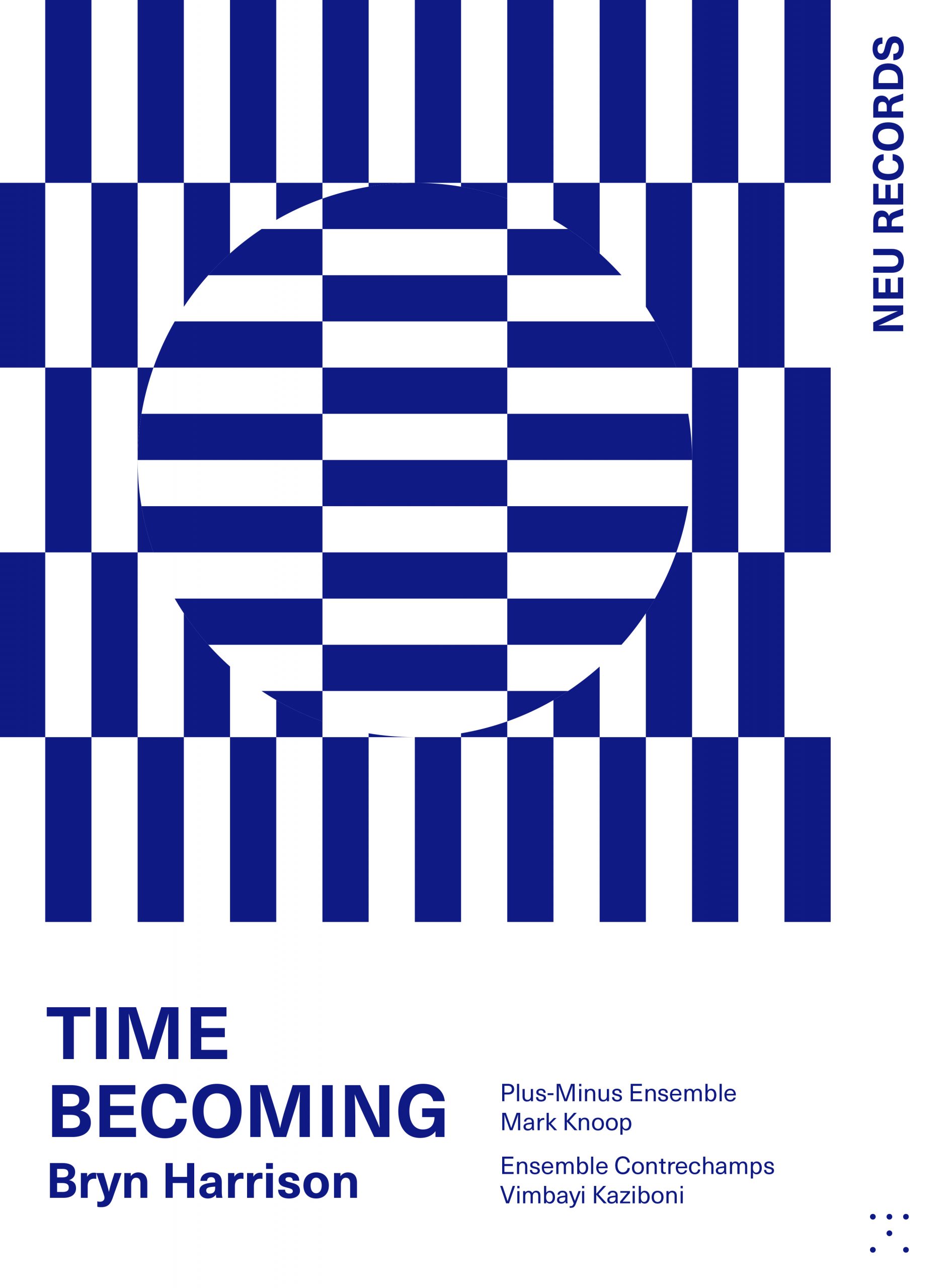 Prof Bryn Harrison's new work for solo violin, A Coiled Form, was premiered by Sarah Saviet in a concert by the Riot Ensemble at Wigmore Hall in London. The work was a commission from Zeitgeist funded by the Ernst von Siemens Music Foundation. Bryn's A Coiled Form II (2020) for solo vibraphone will be premiered 10 November at the Royal Academy of Music by Meadow Brooks. This was one of 200 commissions to mark the 200th anniversary of the RAM.
Bryn's newest CD, Time Becoming, was released by Neu Records in March in an immersive 5.4.1-channel 3D recording and other high-quality audio formats. The release includes performances of repetitions in extended time (2007) by Ensemble Plus-Minus, conducted by Mark Knoop, and the premiere recording of How Things Come Together (2019), performed by Ensemble Contrechamps (Switzerland), conducted by Vimbayi Kaziboni. The release includes a beautiful new essay by Bryn, as well as video documentation and interviews from the recording sessions at Auditorio de Zaragoza, Spain.
Ted Moore, a new member of the FluCoMa team, has three upcoming performances at the Ear Taxi Festival in Chicago (1–3 October), including a new work for Wet Ink Ensemble titled lacunae. His band Binary Canary is the featured ensemble at the Southwest Electronic Music Festival in Phoenix. And the forthcoming edition of Wet Ink Archive includes an article by Ted on AI and musical creativity titled 'Expression, Collaboration, Intuition'.
Finally, many congratulations to Hyunkook Lee, who has recently been elected as a Governor of the Audio Engineering Society!